Most people are convinced that the biggest obstacle to a full and successful life is the outside world. In the  Ego is the Enemy book, Ryan Holiday, one of the leading thinkers of the younger generation, argues that the most common enemy who prevents this is actually inside us: it is our ego. At the beginning of a career, ego often impedes learning and prevents us from fully developing our talents. When we experience our first successes, the ego can blind us and sow our future problems. And in the event of failures, the ego reinforces our sense of loss and hinders our recovery.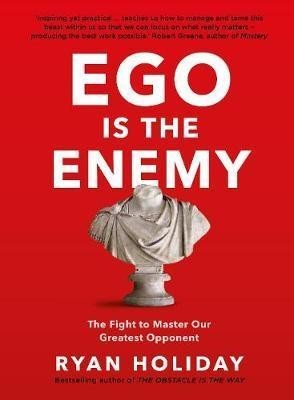 What Ryan Holiday Proves in the Ego Is the Enemy Book?
The echoing book "Ego is the Enemy" introduces the reader to a wide range of stories and examples, from culture, through sport and philosophy, to politics and history, with which the author explains the functioning and reach of this inner impulse in human life. Holiday proves that individuals in the most diverse areas of human life have been able to reach the highest levels of influence and success by freeing themselves from, or succeeding in silencing the pressure of their ego. We can use their tactics, strategies, and decisions in our daily lives.
The Ego Is the Enemy Book Is Divided into Three Parts
The book "Ego is the Enemy" is divided into three parts. On Climbing, Top, and Bottom. The author shows to us that it is in these three dimensions that our inner ego works. At first, he encourages us and doing us mighty, but at some point, he is so overwhelmed that we may lose our sense of our real abilities and skills over time.
The Book "Ego Is the Enemy" Will Encourage You
In a time glorified by social networks, reality television, and other forms of shameless self-promotion with the promise of immediate effect, the battle against one's ego can take place on many fronts. The book "Ego is the Enemy" will encourage you to more easily recognize the ego's arrogance and destructive power and transform its power in a way that will benefit your life.
Who Is Ryan Holiday?
RYAN HOLIDAY is a renowned American motivator, media strategist, and writer. At the age of nineteen, he dropped out of full-time studies and became an apprentice to Robert Green, author of "the 48 Laws of Power" (1998). Later he served as marketing director at the leading American fashion brand, American Apparel. He is the founder and owner of the creative American company Brass Check. As a Strategic Advisor, he works with many renowned authors in various bookstores such as Neil Strauss and Tony Robbins, with television and political leaders, sports coaches, and top athletes. Twitter, YouTube, and Google use their marketing models. Tony Robbins has written four books so far. "Ego is the Enemy" is an international hit. Tony lives on a small ranch in Austin, Texas.
What Others Are Saying About  Ego is the Enemy Book
---
"We often hear that we need confidence to succeed. Ryan Holiday, however, asserts sincerely and insightfully that we gain confidence when we strive for something higher than our success. "
– Adam Grant, author of the bestselling GIVE and TAKE and ORIGINALS
---
"Ryan Holiday is one of the best thinkers of this generation, and this is his best book to date." – Steven Pressfield, author of "The War of Art."
---
"When you read this book, you will not be doing anything in your life the same way as before."
– Jimmy Soni, editor, and writer
---
"Boy, one day you'll find yourself on a crossroads," Boyd said. "You will have to decide which path to take." He gestured and pointed in two directions. "If you go down this path, you will become something special. You'll have to compromise and turn your back on a friend. However, you will be selected, and you will progress through the hierarchy and receive important tasks. "He paused for a moment before presenting him with an alternative. "Or," continued Boyd, "you go the other way and do something, something special for your home country and yourself. If you decide that you want to do something, you may not be promoted, and you may not be given the most important tasks, and you will certainly not be the most popular with your superiors. But you won't have to compromise. You will remain true to yourself and your friends. And your work will mean something. Being someone or doing something. Sometimes life has to be decided. "
– from the book